Olympia Phoenix Inn and Waterstreet Cafe Adventure - As Kevin Costner says in the feature film Bull Durham, "Some days you win, some days you lose, and some days it rains." In other words things don't always go as you plan, but they go never the less. Such was our June adventure to Olympia. The glass beaded sidewalk at Shipwreck Beads.It's always hard getting out of town. On Fridays, you can't dawdle, however. To leave from Tacoma much after two in the afternoon means you run the risk of getting stuck in both JBLM (Joint Base Lewis McChord) and weekend traffic early starters. This particular Friday, we were able to get our work done, calls made, files uploaded, invoices sent, meetings set for the following week, and bags packed early enough to leave Tacoma by 1:30 PM. We had a great time in Olympia.

The Highest Tide Harlequinn Theatre Review - I was unfamiliar with local author Jim Lynch and his novel The Highest Tide. I read the information in the Harlequin brochure announcing their new season and was doubly interested in seeing the play from its description and the link to Jane Jones and Book-It Theatre. My wife Peg used to review plays at Seattle Rep, ACT, the Fifth Avenue, and Book-It. Since Peg is an avid reader, Book-It was her darling. Peg interviewed Myra Pratt of Book-It, but not Jane. The Art of Racing in the Rain, Huck Finn, and Prairie Nocturne were among our favorites. Jane Jones and Myra Pratt cornered the market on delightful and meaningful books that could be converted to theatrical productions. Right then I knew that The Highest Tide must fall into the meaningful basket. The Highest Tide was performed at the Harlequin. Please, read the article for more information.

The Transportation Club of Tacoma is made up of hundreds of professionals in the transportation industry, those who regularly use transportation services for their livelihood, as well as people who have an interest in local and global transportation and logistics. Members belong from Seattle to Olympia and beyond down to Kelso. Membership includes diverse companies large and small including: railroads; steamship lines; trucking companies; warehousing and distribution; cold storage; terminal managers; coffee roasters; paper manufacturers; confectioners; freight forwarders; commercial real estate; banking; consulting; education - and the list keeps growing. As our history is further written, one thing remains constant, being a member of the Transportation Club of Tacoma means you've joined an organization committed to enriching your life professionally and personally.

Different Levels of Customer Service - Article published in The Suburban Times by Patrick Doman - Patrick Doman is an IT expert who began his IT career at MG2 (then Mulvaney Partnership) in Bellevue and is continuing his growth and expertise at American Fast Freight in Fife. Knowing that Cusomer Service is for fellow team members as well as actual customers is the essence of making everyone happy and productive. Patrick started learning Customer Service in the family business. Click Here to enjoy the article!

FREE eBook - Surviving As a Senior Citizen: Money Making Ideas/Suggestions & More

FREE eBook - The State of Homelessness in America

FREE Download PDF Article - Difficulties In Re-Adapting to Working From the Office by Patrick M. Doman

Get a FREE Business Listing for Olympia. Free sign-ups are available to local non-profits and businesses as a bonus for making it through the pandemic. Let's get everyone back on track. Let us know that you want to be in the Olympia directory, and provide your URL and up to fifty words describing your organization or business. Send your information to trainingmedia@yahoo.com - subject "FREE Listing in the Olympia Directory" - Let's get the economy humming!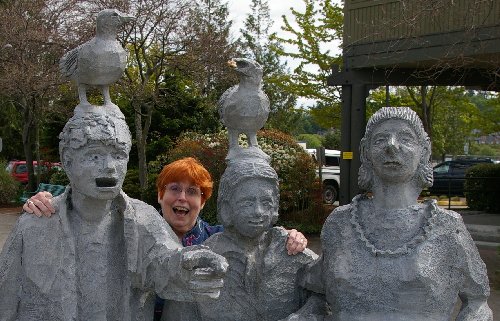 Northwest Adventures is a website exploring the Pacific Northwest. "We enjoy meeting people and we expect to have a wonderful time when we travel. Our expectations are almost always met. If you have a favorite restaurant or a favorite hotel, where they offer exceptional service, please, share your favorites with us. Or if you have a B&B, hotel, or restaurant that you would like us to try and then include in our stories tell about what you have. No matter what, enjoy, and please share your thoughts." - trainingmedia@yahoo.com

Tacoma Theatre Today has information on Pierce County's (and more) main live theater production houses . . . and more. If you enjoy excellent live theater, then visit the site to see what your live entertainment choices are. Their coverage reaches from South King County to Thurston County.
Share Investments - Office Space and Storage - Share Investments LLC has been doing business sense 1998 and is a highly successful property management company renting properties to some of our area's premier companies.


The Pine Street Complex in Nalley Valley, just off South Tacoma Way, offers numerous configurations for multiple businesses. The entire site could accommodate offices, storage, work space, parking, and more. Freeway access is only a quarter of a mile away. Tacoma, University Place, Fircrest, and Lakewood are all nearby.


















Eyecandy Optical - Eye Candy Optical & Myopia Control & Treatment Center - Uptown Gig Harbor's FUNKIEST Eye Doctor - Myopia Control Specialist & Boutique Eye Glasses Shop. 5-Star Google Review


"Excellent service. Great assortment of styles. Some wildly fun & others sensible makes you want to buy 2 pair! Fast turn around too. Highly recommend!" Sweet Treats For Your Eyes. We're passionate about helping you see and look your very best. We are a full-service optometrist & boutique eye glasses shop offering a fun, inviting, & unique experience. Our experienced staff will work with you one on one to find the perfect pair of frames that highlight your style & personality. We only source independent designer brands that prioritize comfort, style, and durability.

Boring frames be gone. Find your new eye candy today!


















Pierce County Back Country Horsemen of Washington - We enjoy both hard work and a good time. We maintain horse trails and preserve nature. We hold classes on packing mules and horses and ride the trails and enjoy the solitude of the hills and forests of the Pacific Northwest. When we go out on the trails we haul gravel, improve trails by clearing fallen trees, and repairing what we can. When we get back to camp, meet for a clinic, or just plain get togethere, we like to have fun.


Please, visit our website and consider joining us for fun and hard work as well. You'll see pages for our calendar and our gallery of image of us working and having fun.






Showalter Building Company - When you're looking for a new kitchen or bedroom, it's time to call Showalter Building Company. Our team of remodelers in Olympia, WA will turn your dated house into an ideal space with our complete line-up including minor renovations like kitchen and bath remodeling projects; as well major changes such updating plumbing fixtures in bathrooms among other things. In Olympia WA we have everything covered so give us a shot at tackling those annoying imperfections on yours today--you won't regret upgrading once again thanks to us!












Washington State Commercial Real Estate Appraisals - From evaluating estate property to raw land for commercial development, we can help with appraising as well as services for Market Analysis, Property Marketability, Feasibility and Highest and Best Use. We provide Washington State with expert commercial property appraisal services. We have an excellent history of long-time commercial appraisals across the state. We offer quality work and excellent prices with quick turn around times. Give us a call at 253-564-1342 or visit our website for more information.









Nth Degree CPAs - What if you had a financial expert helping you optimize your business and family financial situation all year long? Would your business be more profitable? Would you have fewer late nights? Would you feel a greater sense of control? Would you have more time to focus on other areas of your business? Would you reach your goals faster? Nth Degree CPAs, can help. READY TO GET STARTED? GET IN TOUCH TODAY! Call 206-682-0281.












Harlequin Productions - Excellent live theatre in downtown Olympia, Washington. At Harlequin Productions we seek to invigorate, educate, and empower our community and all people to feel more, think more, play more, and judge less through the mirror of real live theatre. Twenty seven seasons, over 160 productions, over 500 artists. From production to administration to artistic and beyond, meet the team behind Harlequin. We do not have a resident company of actors here at Harlequin, and as such we are always looking for new talent for our stage!


"My wife and I have watched dozens of plays at Harlequin over the years and have never, ever been disappointed. Great people!"


Getting in touch with us is easy, whether by email, phone, or in person. Harlequin Productions - 202 4th Avenue East - Olympia, WA 98501. Box Office - 360/786.0151 - for more information, please visit our website - https://harlequinproductions.org/












PublicDoman.com - Creating Waves & Making Marketing Headlines - Packages from $250 for local and national campaigns - Website traffic based on Market Research including published articles, social media postings, local business directories and more - Ask about our affordable Monthly Marketing Campaigns with connections to dozens of Puget Sound locations and large cities nationwide - Call 253-759-6639.












HVAC & Furnace Installation, Repair & Maintenance - From Edmonds, Eastside down to Tacoma area - What's Your Heating and Cooling Problem? Furnace Doctors Can Cure Them All! HVAC contractor, John Day and his Furnace Doctors, have been fixing heat pumps, furnaces and air conditioners for years. John says, "We've seen it all! We are a full -service heating and cooling company - there is NOTHING we cannot work on. We service, install and maintain all HVAC systems including all major brands of heating and cooling equipment."












New Visitors To Your Website Every Single Month - For a one time set-up fee of $150 and $150 per month we market your service/product website locally that delivers twice the number of potential customers over what you would have from Google AdWords. Why pay $3 or $4 per click on Google AdWords when you can get a bigger bang for your buck? The fees keep escalating on Google AdWords, but our monthly fee has stayed the same now for two years. We do everything for you: deliver great reviews, directory listings, search engine placement, online ads and banners . . . and much, much more. Call 253-759-6639.












Reputation Management - Testimonial: "When we got two bad reviews in a row, we called for help. Within a week we were back on track. Thanks for the Reputation Management recovery. The positive reinforcement was fantastic." - W.L.G. - Save your busines . . . help is available! If your online reviews are hurting your business, you might need help. Get information, a free ebook on Reputation Management, and solutions to your problem Call 253-759-6639.
























Chocolate & Vanilla Shakes - Lean Protein Weight Loss Formula - Healthy Aging Diet's Lean Protein Weight Loss Formula is a powdered nutritional beverage that provides both macro and micronutrients for individuals who want to improve body composition and lose or maintain weight. Features specialty nutrients to help promote blood sugar control and efficient fat metabolism.
High-quality whey protein base, 100% casein free.
Assists in healthy blood sugar metabolism and available in chocolate & vanilla.
Each serving provides a multivitamin and mineral core, plus a high dose of chromuim, phaseolamin, guar gum, and green tea extract.
For more information call 253-858-2408 or visit us online, watch our videos, and read our testimonials.












Sewer Line Experts - Trenchless Plumbing & Pipe Bursting Tacoma - Here in the Pacific Northwest, a land of settling earth, healthy trees with strong roots, and old crumbling concrete pipes, it's quite common to have sewer lines filled with invasive roots. Once roots get into your sewer line the problem only worsens. Pielak Plumbing has several solutions for you. They can de-root your system, they can send a video camera down your pipes to inspect the problem, and they can replace your complete sewer line with trenchless plumbing and pipe bursting. Give them a call today at 253-227-0084 for details and estimates. Visit Pielak Plumbing for more information and a step-by-step video showing you how the process works.












Construction Debris and Recycling - Dumpster Rentals - SW Washington - Our business is picking up. We are a full service recycling company, providing services throughout the South Puget Sound region, including the cities of Aberdeen, Olympia, and Centralia. We can help you in Grays Harbor, Lewis, and Thurston counties as well as other areas of the South Puget Sound. Contact Us for immediately help: 360-280-7305.












Chocolate Yellow Silver Black Labrador Puppies For Sale - Wake and Cassie Barney love their family of dogs. The dogs and puppies are part of the family. They breed their dogs and pass them along to happy families in Washington State. Take a look at their Puppy Gallery. Owners are always happy to share photographs of the new members of their own families.












Healthy Aging Diet Control Weight Loss Tacoma - Need to control your diet, lose some weight, or just feel better so you can live longer? Talk to Dana in Tacoma. They can help you and your body. Healthy Aging Body even offers Free Consultations!












PNW Video Production - For over thirty years, the most effective AND affordable choice for video production in the Pacific Northwest. From Group Health, Washington Aggregate and Concrete Association, Asarco, Tacoma Pierce County Health Department, Land Surveyors' Association of Washington, and beyond.


The ideal video production company for construction videos & video manuals for work done at Joint Base Lewis McChord. They produce Youtube videos for small business as well. Distribution via online, DVD, or thumb drive.


















Northwest Adventures and Vacation BLOG by authors Don and Peggy Doman - The Pacific Northwest is a great place to spend a vacation. If you only have a couple of days and are looking for a short adventure, then we have many suggestions. We write about our own adventures to Northwest cities like: Tacoma, Seattle, Mukilteo, Victoria and Portland. We stay at hotels or bed & breakfasts. We visit museums, restaurants, and fun places to shop and look around.
















Olympia Business Directory Questions